Our Team
Who Are We?
We are a team of qualified mental health professionals, data scientists, content writers and designers that work together to make mental health care more accessible. We strive every day, to destigmatize mental health, and bring warmth and love to the world we live in.
MEET THE FOUNDER
Nithya J Rao
Taha Zaidi
Nithya J Rao is a practicing psychologist and driven entrepreneur. She's a dynamic individual who has been working with people struggling with grief, loss, trauma and resilience. As the co-founder at Heart It Out, (a mental health and wellbeing start-up that has impacted over 20000 lives), she wishes to bridge the gap between theory and practice of psychology.
As a trauma informed rehabilitation psychologist, she has spent tens of thousands of hours working with young adults and entrepreneurs in therapy. Her work is influenced by Indian philosophy, business coaching, entrepreneurship, and religious study.
Her work doesn't stop at therapy, rather, she finds herself immersed in other artistic ventures. She is one of the creators of "Lahe Lahe'', a performing arts and expression space in Bangalore, and is deeply passionate about the arts and culture. "I am always on the lookout for opportunities to build authentic, inclusive communities."
Aiming at bringing real-life stories and lived experiences to the stage, she brought Katharsis Productions to life. She feels that her participation as an actor, designer and director, brings diversity, flair and a compassionate touch to her therapy.
ecognised by India Today as one of India's Top 25 entrepreneurs to look out for, Nithya graduated with a Bachelor's degree in Theatre, Literature & Psychology from Christ University and a Master's degree in Psychosocial Rehabilitation and Counseling from the Richmond Fellowship Society.
"By 2040, I'd like to retire with a couple of cats, to study memes. Until then, I wish to make a dent, without haste and pause."
Taha is a decision scientist and the co-founder of Heart It Out. Being a technology enthusiast, he is always keen on showcasing advanced and innovative strategies that can grow and benefit our digital communities, with an emphasis on mental health and well-being.
He has worked with companies to bring great ideas to the forefront that solve problems using data and lazy tech. Taha leverages his learnings to bridge the technology gap in mental healthcare, and make it less daunting for mental health professionals.
Apart from being a techno-junkie who could sacrifice 2 nights' sleep while gaming, Taha is in constant admiration of poetry, music and 'the silver linings to the darkest clouds'.
He rarely gives up and thinks of every goal, big or small as achievable. Taha is an ardent follower of the first principles and lives by them. He's loyal to people, benevolent and has a large heart that constantly drives him to shoulder responsibilities to make "universal health care" accessible to all through Heart It Out.
MEET THE TEAM
Delphina Esther
Delphina is the go-to name when it comes to working with individuals, groups, couples, and families. She is a highly experienced school counsellor who works closely with adolescents and young adults. Her work is greatly rooted in the humanistic schools of thought. She has a practical approach to therapy and loads of inherent curiosity, which helps her clients delve deeper into themselves and re-discover their behaviour patterns. She is also proficient in training and teaching, especially life skills training. Delphina keeps the ship floating. She is the epitome of "Goldilocks Principle" i.e. she is just the "right fit", not just for us, but for clients as well. She is the human definition of "Chill" and is the in-house Harry Potter geek.
Divya helps her clients build strength to deal with present-day problems and helps them develop better awareness of their surroundings. She supports her clients in breaking out of toxic thought patterns and emotions. Divya aids her clients to work on their emotional regulation, self-esteem issues, stress and anxiety. Divya has a heart of gold, with no darkness within. She embraces each and every human being she comes across with the same warmth and carries a strong will to help others wholeheartedly. Her humour tends to get a little rusty sometimes, but they add life to the party and that's one of the many reasons why she's so unique! She loves taking pictures of aesthetic skies. She is competent, yet kind-hearted in her mannerisms. She is extremely dedicated to her profession, and excellently executes her work.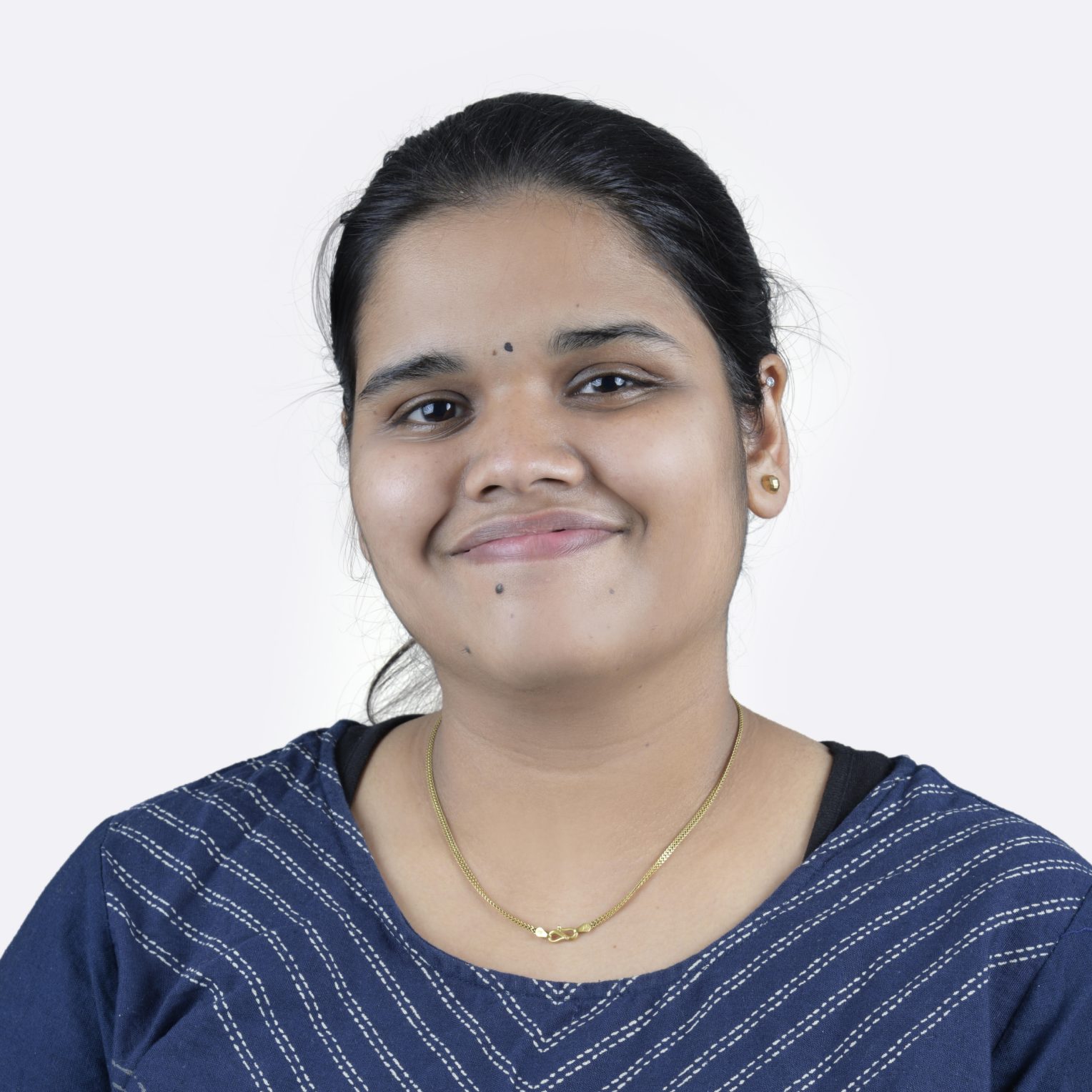 Divya Bhatia
Jyoti Das
Jyoti excels at providing therapy to adolescents and young adults. She helps her clients in dealing with depression, sexuality, body image and eating disorders in getting better and optimistic results. She is highly attuned to the needs of individuals. Her work follows an eclectic approach, and focuses on self-compassion, self-discovery and staying in the present. Her work is influenced by studies of "Inner Child" care. Besides being a therapist, Jyoti is a 'fight sports' enthusiast. She has a fierce character and resilient personality, and harbours a passion even for the smallest things that bring meaning and purpose to her life, and the lives of those around her. Her affinity to justice and her insightful mind never cease to amaze others. She also spends her time out of therapy, caring for animals. She takes pride in her cooking skills!
Kajol is a flexible, professional therapist who caters to different types of psychological disorders. Her day to day work deals with resolving issues relating to work-life balance, anxiety, depression, OCD, relationships and self-improvement. Kajol has worked extensively with young adults and adults. If you're not sure about what irks you, Kajol is the go-to person who will definitely help you figure it all out. When she is not working, Kajol is mostly overthinking, but that does not stop her from fighting patriarchy, one step at a time. She's a solid support, and is one of those teammates who always has your back. She's unwaveringly loyal and can really challenge your core beliefs; encouraging you to see things through different perspectives. She's a huge yoga & MMA enthusiast and is incredibly strong. She also loves spicy food and things that are visually aesthetic.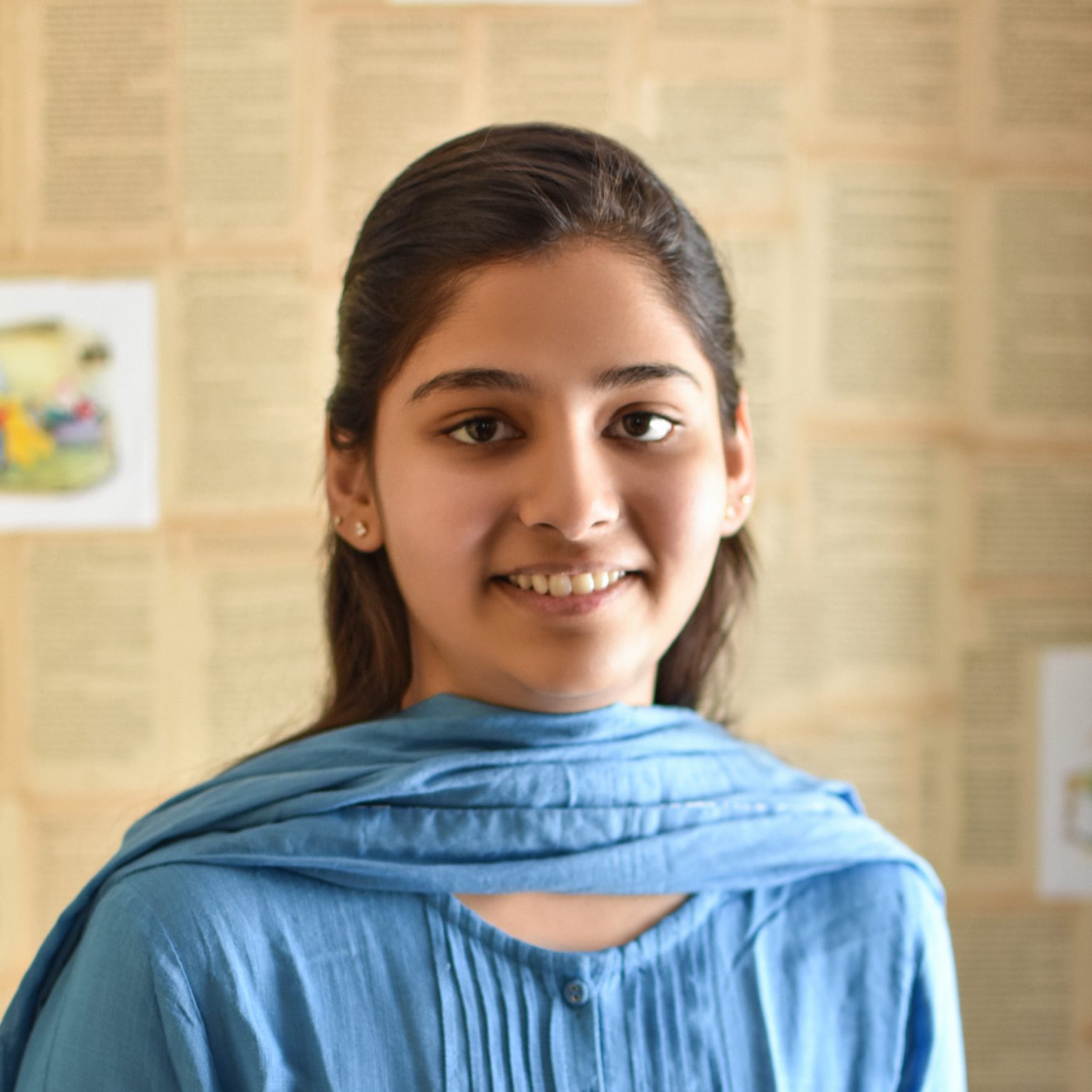 Kajol Birawat
Namratha Dinesh
Namratha uses an extensive approach to guide her clients through their mental health journey. Together, they explore different perspectives; focusing on unconscious thoughts, desires and feelings. As a therapist, Namratha believes that her clients know best and she is "just a catalyst to help them achieve their goals". She believes that it's important to know that taking care of yourself is a continuous journey and she will be there to help you through the process. Her go to quote- "food is for plants and cats" . While being trapped in concrete surroundings, Namratha's heart is always in awe of nature and its therapeutic power. She's very resourceful, quick on her feet, happy go lucky, easy to work with, agreeable and a warm person.
Saumya follows a psychodynamic, humanistic and cognitive behavioural approach while counselling. She focuses on the unconscious thoughts, desires and feelings of individuals and how this impacts their conscious behaviour and thoughts. As a therapist, the one message she would like to give her clients is "It is okay to not be okay! I'm here to support your mental health journey." And by letting her clients truly handle life's reins, she guides them through their journey with the utmost care. Oh! And not to forget, Saumya is our impromptu PJ master. If she were ever to get into robbery she'd say, "hand over that burger!". She's a foodie first, person next, and a gentle force to reckon with. She has a vast appetite for learning and absorbing the wisdom of lived experiences that she channels into her work.
Saumya Prakash
Sumithra Sridhar
Sumithra is the lead relationship and couples therapist at Heart It Out. With the eye-opening, groundbreaking work that she has accomplished through her professional journey, she implements into her practise, different therapeutic approaches to bring peace to couples and human beings in relationships. Sumithra cultivates insight and deeper perspective in her sessions. Sumithra helps her clients resolve relationship conflicts, working across topics of emotional regulation, self-esteem issues, stress and anxiety. She has also curated workshops on anger management, addiction, and sexual harassment. Her underlying passion sees her invested in group-based awareness work on de-stigmatisation and has pushed her to work from corporates to grassroot levels, spreading the work of evidence-based, best practices to deep corners of the country. When she is not being a therapist, Sumithra enjoys watching The Office. She's always been the person who is warm and embraces your vulnerability. She's a hard-core romantic and is probably obsessed with a movie/ actor for the simplest of reasons.
Dwelling on the importance of nurturing "hope", Anvita believes that the main objective of therapy is to create hope. She provides a safe, compassionate, judgement-free environment for her clients so they can bring forth their deepest needs, and uses this as a medium for achieving their goals. Anvita has extensive experience working with adolescents and adults in areas of stress management, anxiety, depression, self-esteem and resilience building. She incorporates a unique lens of attachment theory and a systemic approach for understanding relationship and family concerns, helping clients in their overall functioning. She also has hands-on experience in conducting work-life balance, mental wellness and positive parenting workshops. Apart from kindling hope, she exudes a 'zen' aura. She has often been spotted reclining on couches and chilling on the wildest of days.
Anvita Sethi
Kajol Maniar
Kajal is a trained counseling psychologist who incorporates an all-embracing and multicultural perspective based on the ideology that people come from all walks of life and they are unique. Honouring people's natural creative abilities, Kajal focuses on acceptance and conveying life stories through expressive mediums like art, writing or play. Using a person-centered approach in therapy, she helps create space for clients to explore and be themselves. Kajal provides individual, as well as group counseling sessions to help address different social, behavioural and emotional concerns like navigating through xlBTQIA++ identities, anger management, career counseling, stress, depression, etc. Kajal is a free-spirited human who loves to travel and explore the hidden scenic beauties. The wordsmith in her finds solace at slam poetry at open mic events. On a leisure day you will find her sipping coffee while she bakes to her heart's content.
Through a person-centred approach, Shambhavi applies her knowledge in psychology to support her clients with their personal, emotional, and psychological concerns. She often relies on creative and reflective tools. She recognises personal development as a dynamic process and guides her clients as they expand their perspectives during their therapeutic journey. Shambhavi has worked with different types of people- presenting neuro-developmental, psychiatric, behavioural, and neurodegenerative disorders. As a trained facilitator and experienced researcher, she uses her unique insights to help her clients develop self-awareness and achieve their mental health milestones. We find her simple yet complex; she is someone who will fight for her values and will not back down. People admire her persistence and attention to detail. She may seem soft and gentle but her spirit is unbreakable, one of the many things that makes us take pride in being associated with her.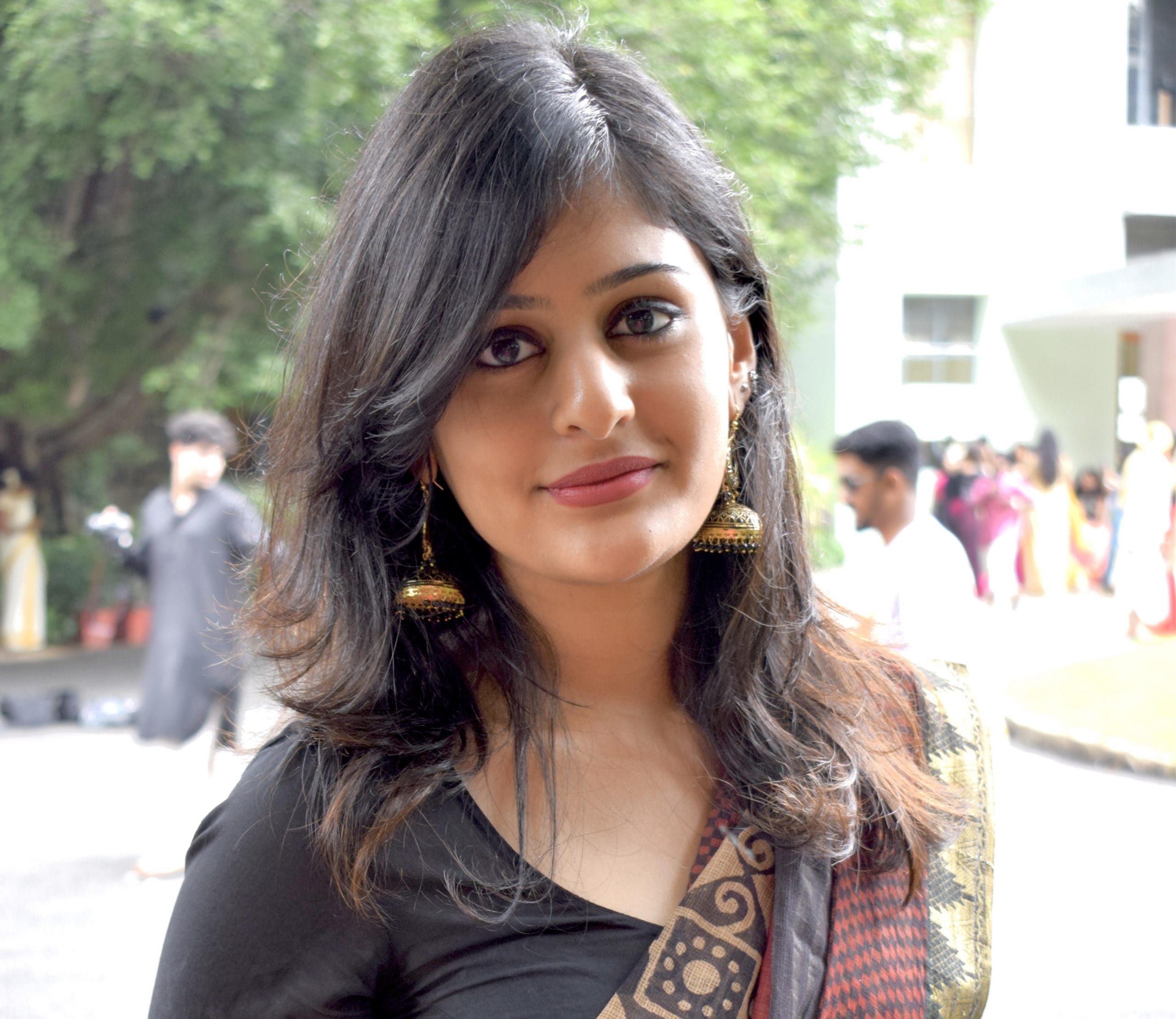 Shambhavi Prathap
Ananya Mirji
Ananya focuses on using a holistic approach to help her clients achieve their mental health goals. She has worked closely with children and adolescents and is trained in Applied Behaviour Analysis. She believes in creating a warm and empathetic space for her clients to seek support on their journey towards mental health and overall well-being, creating an inclusive and accessible space by adopting a client centred approach to guide them through their mental health journey. Self proclaimed humour queen, Ananya never fails to slip in a lame (read: hilarious) pun/joke at every opportunity possible, and will most likely be found taking a nap in a cozy spot somewhere. She looks at mental health care as an exciting journey full of learning, reflection and self discovery and hopes to share this enthusiasm with everyone she encounters.
Satya (pronouns: they/them) uses a spectrum-inspired approach in therapy to help clients work on gender and sexual health concerns . They are proficient in catering to and dealing with individual, couple and family therapy settings. They are queer, kink and poly affirmative. They provide therapy for people of all ages, genders, sexualities and abilities. Their aim is to remove the stigma around sexual health and make it more accessible. Satya is a passionate human being who likes baking, watching anime, korean/thai dramas and exchanging memes with their friends on Instagram. They listen to a variety of music and can switch from Ariana Grande to Avenged Sevenfold anytime, (which they consider a feat). These days you could catch them making informative yet fun reels, highlighting the importance of sex education and de-stigmatizing kinks.
Satya Gopal
Atmica Reddy
Atmica uses a combination of conventional psychological theories and creative tools such as visual art, music and movement to facilitate the therapeutic process. With a person-centred approach to her counselling, she supports clients with emotional, psychological and relational challenges. Her primary objective is to promote the holistic development of clients through unique verbal/non-verbal interventions that are informed by theories of the mind-body interrelationship. She specialises in the treatment and management of anxiety, depression, body image, anger, trauma and abuse. She has ample experience working with children, adolescents and adults across various health, education and social care setups both in India and in the UK. Diligent, hardworking and a nerd, Atmica aims at personal growth and is fully immersed in achieving her goals.
Shreya is the social media manager at Heart It Out. Passionate about public relations and social media marketing, she looks at obstacles as unique opportunities to apply strategic thinking and find innovative solutions. She loves finding new and creative ways to have a strong presence in today's highly competitive social media platforms. Appreciative and open to new ideas, she is all about learning new things every day. Apart from work, she is all about movies, murder documentaries, singing, taking naps and on a perpetual hunt for new places to eat. If you ever need help choosing between outfits or food , she is the girl for you. She hopes to travel the world some day and experience different cultures.
Shreya Mohandas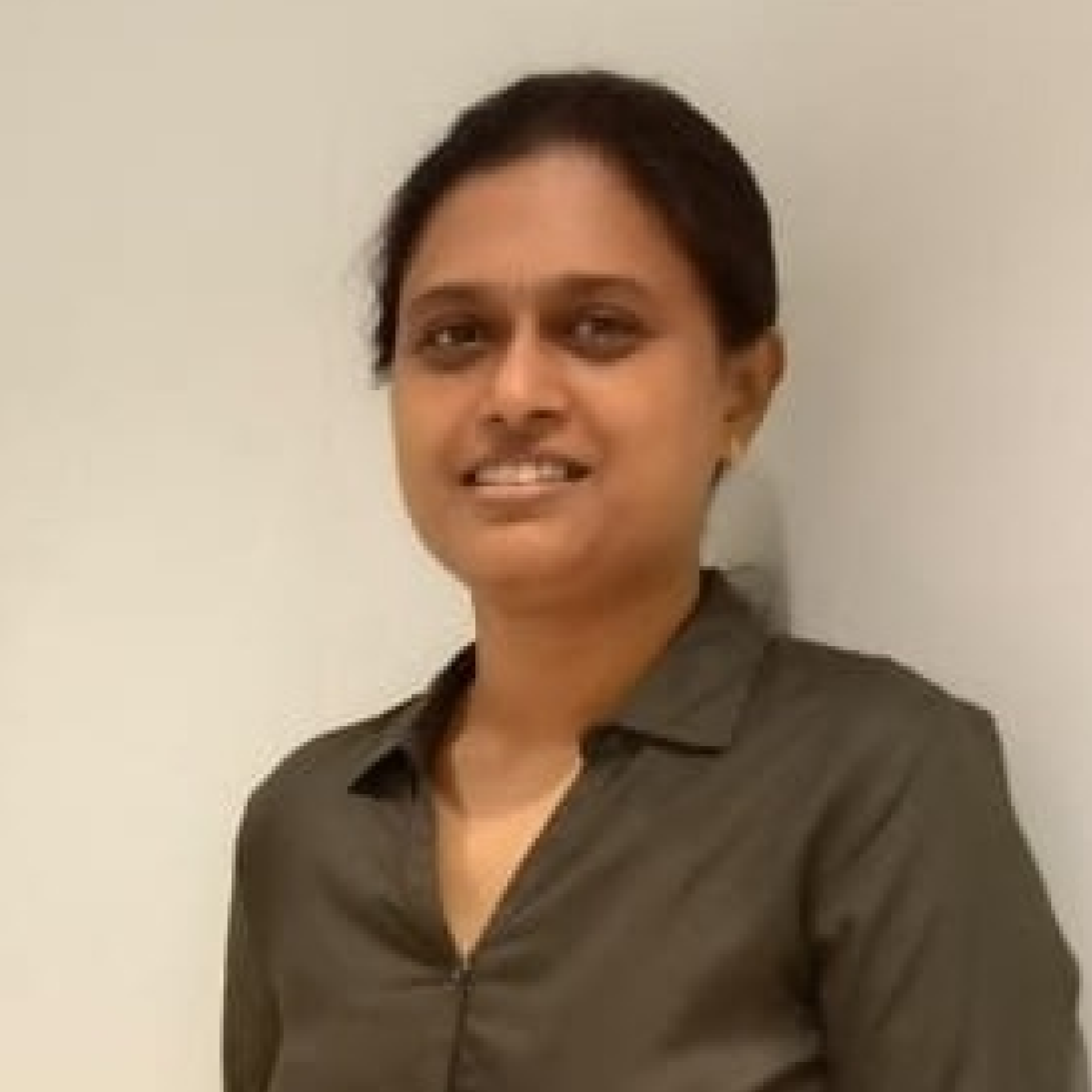 Anuradha Hariram
Anuradha is the Community Manager at Heart It Out. She is the first voice you hear when you call us and the strong force that keeps us functioning. She likes watching Thalaivar movies 1st day 1st show, eating good food, shopping and spending time with friends and family. She is a cool mom, a supportive colleague and one of the smartest people we have met.
Rahul Rathi is a Senior Decision Scientist at Heart It Out. He holds a Bachelor of Engineering degree in Computer Science from the Gujarat University and is obsessed with creating things. At work, Rahul is bridging the gap between the people and the mental health community by using technology and analytics to make mental health easily accessible. In addition to managing all the technology and analytics for the Heart It Out, he also believes in giving back to the community, and he gives his time, knowledge & energy to social causes by voluntary & charitable work. During the weekend, he likes to watch movies, web series and spend time with his family
Rahul Rathi
Nishtha Nautiyal
Nishtha, like her name, is a dedicated and an efficient professional who serves as the Communications Manager at Heart It Out. She is a dynamic and free-spirited individual who believes life is a Bildungsroman adventure. At Heart It Out, she visits and revisits myriad documents and write-ups to bring out content that caters to the moods and taste of the audience. She is a detail oriented person who races against deadlines everyday. A polyglot who loves to learn about new cultures and concepts, Nishtha is sensitive and cares deeply about her tribe (read: family, friends and teammates). She has published three research papers, worked on translations and presented her Masters' dissertation in film studies. On a leisure day, she sleeps in and binge-watches K-Dramas. She loves to interact with people, appreciate art (in any form) and has been actively participating in Theatre, Music and Creative Writing programs. She wishes to travel extensively and write for films. She is level headed and open to discussion on anything under the sun.
With an eclectic approach and an emphasis on person-centred therapy, Nishtha works with her clients to navigate through their well-being journey using reflective instruments. Knowing that it's a process instead of a destination, she encourages dynamic personal development and believes that her clients know best with a potential to flourish in their therapeutic journey. Having worked with different areas of concern, she aims to enhance and nurture the unique insights in her clients and work towards their inner harmony.
Nishtha Mehra
Angela Masih
With extensive expertise in person-centered care and being an experienced research apprentice both in India and the UK, Angela's primary focus both personally and professionally has always been to treat clients with respect and dignity and putting their wellbeing first by extending her reflective and compassionate self.Having worked with individuals with diverse needs such as stress, anxiety, highly aggressive challenging behaviour, and work-life balance at corporate (using an embodied approach via low-intensity psychological interventions), promoting emotion regulation, identifying safeguarding concerns in children and teaching them empathy skills, she believes that any behavior causing significant distress is the result of unmet needs. Angela firmly believes that all behaviour is understandable at some levels, need is to reframe them by changing attributions. As a therapist she understands that she has a duty of care and believes in providing a safe space to clients in helping them lead a fulfilled life.Angela is warm, approachable and a bubbly person. During her free time, she enjoys jump rope, running, and watching K dramas. She is passionate about her gin and loves gin tasking to explore different flavours (her favourite is floral tones!). You will also find her sipping on iced coffee very often.
TEAM TRADITION
Hackathons
Every quarter we lead hackathons to delve deeper into one of our projects. It's a fun boost to productivity and a renewal of passion to the work we do. Learning is built into every role here.
Birthdays
We celebrate these monthly and you can't escape us. Let us know what you'd like, quiet poetry readings or smashed out parties. We'll try and make it happen!

TogetherApart
The pandemic needed us to have little times Together even though we were Apart. We adopted a tradition to work and eat together everyday to support each other.

Masterclasses and Workshops
Once a month, we have a MasterClass from an Expert. We offer continuos learning opportunities to help you level up. We take fostering personal growth very seriously and believe everyone has something to teach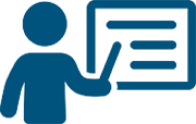 Outings and Vacations
Let out steam at our events, games, bonfires, block parties, team outings and annual vacations. We care about chilling too! And eating of course!
Hackathons
Birthdays

Masterclasses and Workshops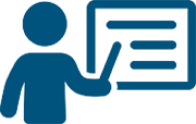 Outings and Vacations